WANT A
 MINI NATURE PARK

 

IN YOUR GARDEN?
A beautiful and effective water feature for your home and garden. It powers with the light of the sun and sprays water in 4 different patterns. Enjoy the soothing, tranquil sounds of running water and take delight in the pleasure it gives to your feathered friends.
You DON'T NEED a birdbath to place this fountain, you can place it anywhere even in a bowl full of water, and enjoy the soothing sight!
This fountain makes an affordable and efficient pump that requires no electricity or batteries! 
The simple design means no ugly wires will be present and features suction cups if you want to keep it in place or you can let it float freely!
Change up the nozzle heads for different water effects and place it in direct sunlight for best results.
Why Our Solar Fountain?
Eco-friendly – The solar bird bath fountain pump runs automatically, no battery or electricity needed, just the solar power from the sun.
Convenient Function Design – Cleans and moves easily in different locations. No plugs required, and is suitable for small and multiple fountain heads for different water patterns.
Multi-function – Can be used for bird bath, fish tank, small pond, garden decoration, and water circulation for oxygen.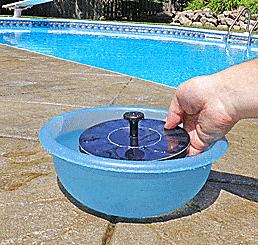 Easy to use – Simply place the solar panel under the sunlight to automatically start getting power and pumping water.
4 spray patterns: The solar garden fountain comes with 4 different sprayer heads each producing a unique pattern of water spray to attract more birds.
Float or Submerge Feature – You can either let this device float on the fountain or submerge on it for a subtle flow of water look.
UPGRADE VERSION – Upgrade material 

 is used to make the fountain work better on cloudy days when the sun is not so strong.
LED DELUXE VERSION – 

This fountain has a built-in high-performance polymer lithium battery. After the battery is fully charged, water spray at night and LED lamp beads can work for 6-7 hours, and water can be sprayed while charging during the day

. 

Three colors (red, green and blue) light up, making the swimming pool more gorgeous at night. 
How To Use: 
Where To Use:
Invite all kinds of birds to your yard with this beautiful Solar Powered Fountain!
Product Details:
Package Contents:
1 x Solar Fountain Pump 

4 x Nozzles
Q&A
Q: Will it work without sunshine?
A: This product is a solar direct-drive water pump without an external battery. The height of the water spray depends entirely on the strength of the sun. When the sun is weak, the pump will not work continuously, but will automatically start repeatedly and continuously work until the sun reaches a certain intensity. When using, please place the product under unobstructed sunlight. Shading will affect the normal operation of the pump.
Q: Can I leave th pump out of the water?
A: For great working, the pump must be completely immersed in the water, and it cannot be dehydrated for a long time. When the water pump is just immersed in water, because there is air in the water pump, it is recommended to insert the nozzle after the water pump is spraying normally.
Q: How often to change the water?
A: Please keep the water source clean and clean the pump regularly to prevent foreign matter from being sucked in by the pump and causing the pump to fail to work normally.