X's and O's and Tic Tac Toes are so yesterday. It's all about Tic Tac Tongue now! Make sure to be quick to lick with this Lizard Tongue Card Game!
Put on the lizard mask and get ready for a game of skill and speed. One player flips over a number card. The other two players face off to knock down the correct insect card.
The lizard that knocks down the most insects the fastest wins! Each Lizard Tongue game comes with 2 lizard masks with washable mouthpieces and tongues, 10 target cards, 10 game cards and game rules.
FEATURES
CHALLENGING FUN GAME.

Players have to be able to aim at the proper card and race to be the first to knock it over with a lizard tongue that darts

in and out trying to catch flies for dinner.
EASY GAME RULES.

Be quick to lick! Battle it out with your friends to lick as many insects as you can! The highest score wins!
LEARNING WHILE PLAYING.

Enhances kid's number recognition, coordination, imaginative play. Combine reptiles, insects, and sticking out tongues, and it's a winning combo for every little kid!
INTERACTIVE FAMILY GAME.

It's also pretty easy to play once you get going so it makes for a fun family game night. And don't worry, parents: Each mouthpiece is completely washable.
GREAT GIFT FOR KIDS.

This Lizard tongue is made for kids ages 4 and up and should be played in two teams made up of two players each. Great for kids and kids alike!
How to play:
The game is very simple: flip to find the target snapshot. First, put the target card in the middle of the table. 10 double-sided patterns test reaction ability, 10 single-sided patterns test memory.

Stack the other 10 lottery cards into a pile with the pattern facing down. The flipped pattern represents the mistake that everyone wants to catch. When looking for insects, you can identify them based on the corresponding points on the image or card: the person who knocked down the insects first can keep the insects and wait for them. At the end of the game, accumulate points on the corresponding card and win with the highest score.
The tongue can be up to 28cm. Suitable for gatherings, families, coffee shops and other places.
PACKAGE INCLUDED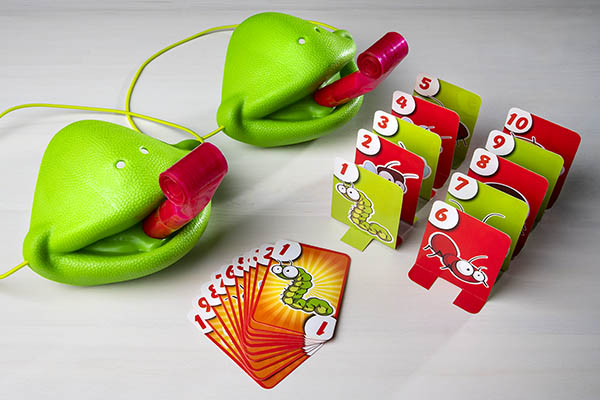 2 x chameleon masks(With 2 x mouthpieces and 2 x chameleon tongues)
10 x Stand-UP Targets
10 x Game Cards