Tired of failed, uneven and messy cake layers?
Stop the agony from using a knife, and switch to a proper cake leveller. This Stainless Steel Cake Slicer perfectly even cuts cake layers with no mess and tearing.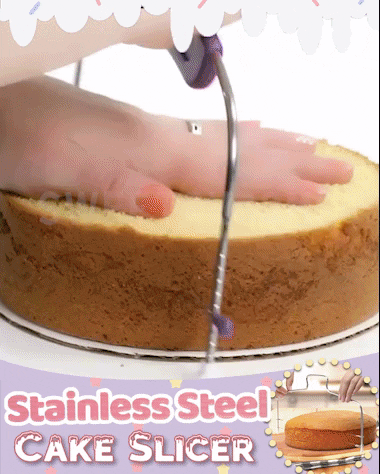 The lightweight cutter is made from food grade stainless steel and is used to slice a cake up to 8 sections, out of two available wires. The wire is adjustable so you can cut to measure. This ideal for both professional & amateur bakers alike.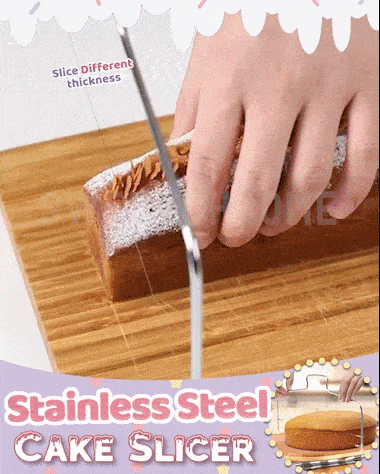 TWO FULLY ADJUSTABLE WIRES
Each wire is adjustable to 8 desired heights. There are grooves on the sides so the cutting wires will be locked in place. Just simply move the wire from one notch to another.

PERFECTLY CUTS CAKE LAYER
Stabilizing feet ensure consistently straight cut layers. It is ideal for both professional & amateur bakers alike.

EFFORTLESS TO USE
The handle and stable feet ensure smooth operation.
1. Adjust the wire and set your cake on a flat
2. Hold the handle and pull through the cake

Multi-purpose
This cake slicer can be used in splitting soft or crumb cakes, burger buns, brownies, bread loaf, and many more!

PREMIUM QUALITY
It is made of lightweight and heavy duty military grade stainless steel which is nontoxic and will glide through your cake effortlessly.

Specifications
Dimensions: 6.2 x 12.5inch


Package includes
1 x Stainless Steel Cake Slicer