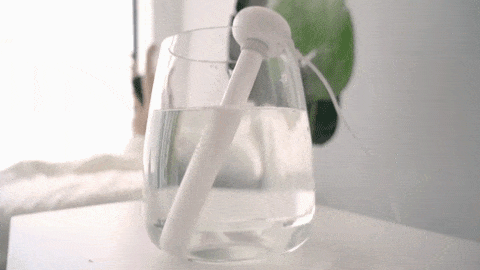 FEATURES:



Small and lightweight

Environmental and convenient

Perfect for use in the bedroom, office, car, hotel, tent, or even on flights

Compact size and wireless design allow you to take it wherever you go

The humidification intensity is large, the ultrasonic atomization is fine and uniform

For a bottle of 500 ml of water, this humidifier can be used about 9 to 10 hours

Humidifier will be shut-off when the water bottle empty, no worry while sleeping

Add as much moisture to your air as you want, and keep your skin well-moisturized

Ultrasonic technology operates at below 35 decibels, to project hygienic, humidified air quickly and quietly
SPECIFICATIONS:
Power:

 about 1.5w

Working voltage:

 2.5-5v

Spraying amount

: 35ml/h

Apply to:

 mineral water bottle, cups, mugs etc.
PACKAGE INCLUDES:
1x Humidifier

2x Long tube

2x Short tube

1x USB cable

1x Manual

1x Product box
Travel Humidifier–It can be placed in any container and easy to use. This can be carried with you and doesn't occupy the place. Portable humidifier is suitable for home, office, car, hotel, dorm, camping and outdoor. It will work anywhere you can plug in a USB for added on-the-go convenience.
Adjustable the Length–Portable cool mister humidifier, desk humidifier, travel humidifier, office humidifier, mini humidifier. You can choose the longer humidifier and shorter one due to adjustable length. Flexible design allows you to take it wherever you go. It can easily fit in purses, backpacks, and suitcases.
Quiet Humidifier–The quiet diffuser adopts ultrasonic technology, it is extremely quiet while working or sleeping and won't bring any disturbance to you. It keeps the humidity of the air quietly for you, whether you are at work or while you sleep.
Health Humidify–This diffuser can effectively improve the dry air, adds moisture to the air, relieve the inconvenience caused by drying. While you're on the road by using it. Sit back, relax and turn your car into a stress-free, peaceful place to enjoy. Ideal for your family, friends and lovers.